Do you ever think about what to do with the old blog posts?
No?
Are you one of those agencies that focuses more on pumping out new content?
Then, you might be surprised by the fact that optimizing the already published content will generate more leads for your business.
Yes, It's true! Updating already published blogs can result in increased traffic rate by approximately 87%
Your target audience may regularly visit that old content. However, you haven't even touched them since they were published. So, the right time is here to update them, as you haven't done it hitherto, and it could have an adverse impact on your entire content marketing strategy.
Benefits of Content Optimization
Before we take a deep dive into the sea of content optimization in digital marketing, let's have a closer look at why you should do it.
Boost User Experience
Your old blog might have a lot of problems, such as:
Broken links,
Over-populated content with few or no subheadings,
Poor quality images
Not mobile-friendly, etc.
Therefore, when you go to your blog for some workarounds, you can identify the broken links with the help of Ahrefs and make some amendments to your content piece.
Including multi-media content in your SEO-optimized blog is one of the great ideas to extend your reach. And while you are revising the written content, you can also make it more attractive by eliminating poor-quality images with rich media such as infographics, videos, etc. Fortunately, we have a handful of tools, such as Canva, Pexels, and Unsplash, to make infographics, videos, and gifs without being a seasoned designer. Apart from this, adding headings & sub-headings to your blog is also a great practice to make it more user-friendly.
Most importantly, in today's mobile-friendly world, your entire website must be mobile-friendly as the mobile is the device we hugely rely on over laptops and desktops.
Ultimately, incorporating these hacks into your blog will ensure that anyone reading your content has a great user experience.
Improve Your Brand's Credibility
In "Inventing Anna," a show on Netflix, there is a scene when Vivian (a journalist) discusses the content and the internet with her husband. She says, "People forget, but people use Google… And Google never forgets."
And as a marketer, you can quickly resonate with this line!
It is pretty easy for us to quickly forget the old, published blogs once we have a full-fledged website with lots of content, but Google never forgets.
A great piece of content will help boost your E.A.T. (expertise, authority, and trust) on different search result pages. It means that your old piece of content can still be reflected in the searches, even if information is a bit dated. And ultimately can improve your brand's reputation Infront of the target audience. But old blogs having incorrect information can sabotage your brand's reputation.

Raises Your Click-Through Rate (CTR)
If two content pieces are reflected in the searches, and one was recently published- which one will be picked by the user? What do you think?
In the world of SEO, fresh content is one of Google's ranking factors. Google will exude the recently published content at the top of the searches. Always remember that you can't trick Google's algos. You just need to re-do the publishing date of the blog to take advantage. Search engine crawling is based on some imperative content amendments paired up with the date change.
Keeps Your Website SEO-Friendly
Google updates its algorithm several times a year, and some of the changes can significantly impact the ranking and traffic of your content. Making changes according to the new rules and latest developments can make your website SEO-friendly.
Additionally, frequent updates to your content will make Google quickly index your website. It shows that search engines want regular content updates to make their crawlers swing again & again.
Revive Your Already Published Content
Reviving an old blog post as per the SEO is not a one-step process. It's time to turn your content into a masterpiece. Let's have a look at how you can upgrade your content with a few steps.
Gather the Complete Data & Find the Right Pages to Update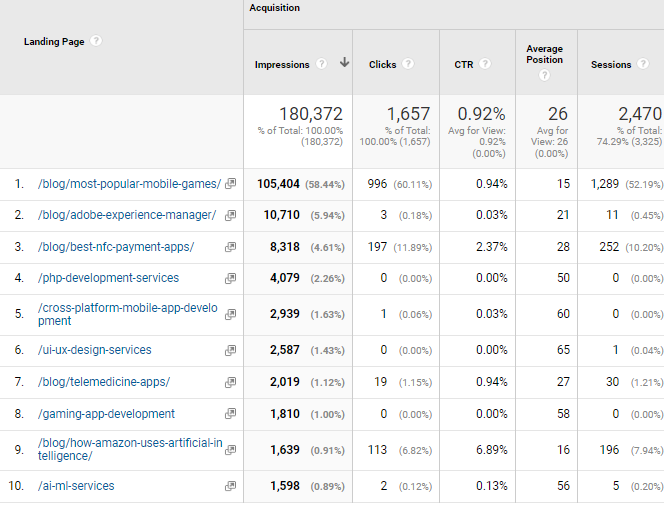 The first & foremost question is which blog posts are required to be optimized.
Well, hopefully, you are tracking many different metrics to figure it out.
The first step you require to take is to hop on Google Analytics. To find out the most popular pages on your website, you need to go under Behavior>Site Content>All Pages. Apart from knowing the popular pages, you will also learn different things like bounce rate, C.T.R., and average time on a page. You can even export this spreadsheet for further use.
Once you have gathered all the data, it's time to research it to proceed further in this journey of content optimization. Here are a few kinds of pages to look for:
Former Popular Content
These are the blogs that performed well earlier in terms of ranking, earned links, shares over different social media platforms, etc., but now the traffic and search rank of those particular pages have gone down.
High Traffic but Low Conversions
These are the blogs that have high traffic but a low conversion rate. These pages have the potential to bring leads and signups. Therefore, you can optimize these pages according to the SEO guidelines to get them on the right track.
Low Traffic but High Conversions
Blogs with low traffic but high conversion value come under this category. So, it's time for you to work around the traffic that will ultimately contribute to increased traffic.
Excess of anything is not good. So, it's better to pick 10 to 30 pages in the beginning. You can always do more later.
Upgrade Your Keyword Research
Keyword research is something we call the basic building block & the backbone of any SEO strategy. So, take it seriously!
It is possible that a keyword or phrase that was popular ten to twelve months ago might not get the same amount of traffic today. Consequently, it is crucial to re-optimize your content repeatedly according to the latest keywords and search phrases.
While updating your keyword strategy, you will also find a few of the relevant keywords that are popular today. Make sure that you don't miss even the secondary keyword to rectify your blog's stats. Here is the step-by-step procedure to get the new keywords for your content with Google Search Console:
Under Google Search Console, go to the Performance Report.
Now you need to click on the filter rows icon, select Position, and then Smaller than icon & put in 21.
Click on the search query that displays up, and then click on Pages to see which pages are exuding up in the search for them.
Additionally, to check out the suggested keywords for your pages, you can put your pages into the Google Keyword Planner. And then, you will get to know a few more key phrases for which you have not optimized your blog. Especially take a thorough note of long-tail keywords, as they are easier to rank.
Keyword clustering is something that you need to look for after doing keyword research. Most of the time, while researching keywords, we end up with only one focus keyword on each of our pages. In fact, Yoast SEO also works in this manner and asks for focus keywords whenever we create content. However, rather than ranking for only one keyword, web pages rank for more than one keyword. Here comes the need for keyword clustering.
Keyword clustering is combining a whole list of keywords that we are using to target your blog post instead of targeting just one single keyword or keyphrase.
Identifying Search Intent
Along with making a list of keywords, you also need to identify the search intent of those keywords. This is one of the major contributing factors to the ranking of the content. In layman's terms, search intent is the actual reason behind the user's search query. It is something that makes us understand the stage of a customer in the buyer's journey.
So, when a user types a few keywords, what do they actually need? Do they come to get information about a particular topic? Or are they looking to buy something? Hence, rather than just focusing on keyword research, you need to understand the user's ultimate motive for exploring the internet. Understanding this will assist you in creating the most relevant content for your target audience.
Identifying the search intent with the help of tools such as Keyword Magic Tool (Semrush), Cognitive SEO, etc., is more manageable and accurate than doing it manually.
Revamp Your Headlines
Did you know 8 out of 10 people only read the headlines of your blog post?
Yes, it's right!
Revamping the old headlines and adding some new eye-catching headlines to your content is a great way to grab the eyeballs of the users. As aforementioned, up-to-date content attracts more clicks, and you can reap the benefits of it by making some changes in your headlines to show it has recently been updated. You can even include P.A.A. (People Also Ask) in your content as a headline or as F.A.Q.s in the last section of your blog post. This will assist you in displaying long-tail keywords where people usually look for the latest content. So, don't underestimate the power of headlines.
Content Updation
Now here comes the favorite part of any writer, i.e., adding some new updates to the old content. No matter whether you want to make a few changes or a lot of changes to your existing content, here is what you need to look for:
Broken Links
While checking for broken links, ensure that your outbound links are working correctly and are all linked to current pages. This will help you to eliminate broken links from your blog posts, which is one of the alarming signs for SEO.
Accurate Data
Keep your eye on any stats, or research you have included. Check out if there are any updates to those stats or research since you have posted your blog. This enables you to make your content more accurate as you maintain your information's credibility.
Grammar and Spellings
With time, you become better at crafting content than before. Reviving your content is an ideal way to showcase your improved version of writing (grammar, formatting, spelling, vocabulary), making the audience consume your content more easily.
High-Quality Visuals
Place your content one step ahead of the competition by incorporating some compelling images. Replace simple images with videos & gifs as they are in trend. Additionally, if there are any graphs in your content, upgrade them to their latest version.
New Internal Links
Since you published your old article, now you might have a number of new articles. You can link them in your old content according to their relevancy. As a result, the structuring of your site and dwell time also increases. But make sure to follow the best SEO link practices to limit the links per page to a reasonable number.
Still confused about what to do first to update your content?
Check out your competitors and see what & how they are doing to make their content better. This will let you proceed in the right direction.
On-Page SEO is a Must
Optimizing your website's individual pages helps you rank higher in SERP (Search Engine Result Pages) and boosts relevant traffic to your site. It means paying close attention to the following:
Main keyword in the title, meta description, URL, and headings.
Embed secondary keywords in H2 and H3.
Make sure that all the internal & external links are working correctly, relevant, and up to date.
Image optimization is equally important for SEO.
If you doubt your SEO skills, you can take the help of any content analysis tool.
Improve Your CTA
If your content is old, probably the chances are high that your CTA (Call to Action) is no longer up to date. You may have some products now that better fit your topic, or maybe there was no need for a lead generation part when you wrote your blog earlier. Exact phrases can also be used in CTA to convince the buyer to take the final step.
Sort it Out Via Suggestions
Before you post the updated content, go through the comment section because, over time, you have a lot of comments. However, not all of them are useful. But you can consider the valuable comments to make amendments to your content piece.
There is some spam as well in the comment section; just delete it so that it will become helpful for the new users coming to your website.
Update the Post Date & Promote it
Finally, the thing that you need to do before pushing your content is to change its date. As aforementioned, this is an effective way to get netizens to click on your posts while they are browsing the internet.
After updating the content and post-date, it's time to promote your existing post!
One of the first step in this series is requesting Google to recrawl your content. You can do so via Google Search Console. Request for crawling of a particular URL, go to URL Inspection tool > Request Indexing.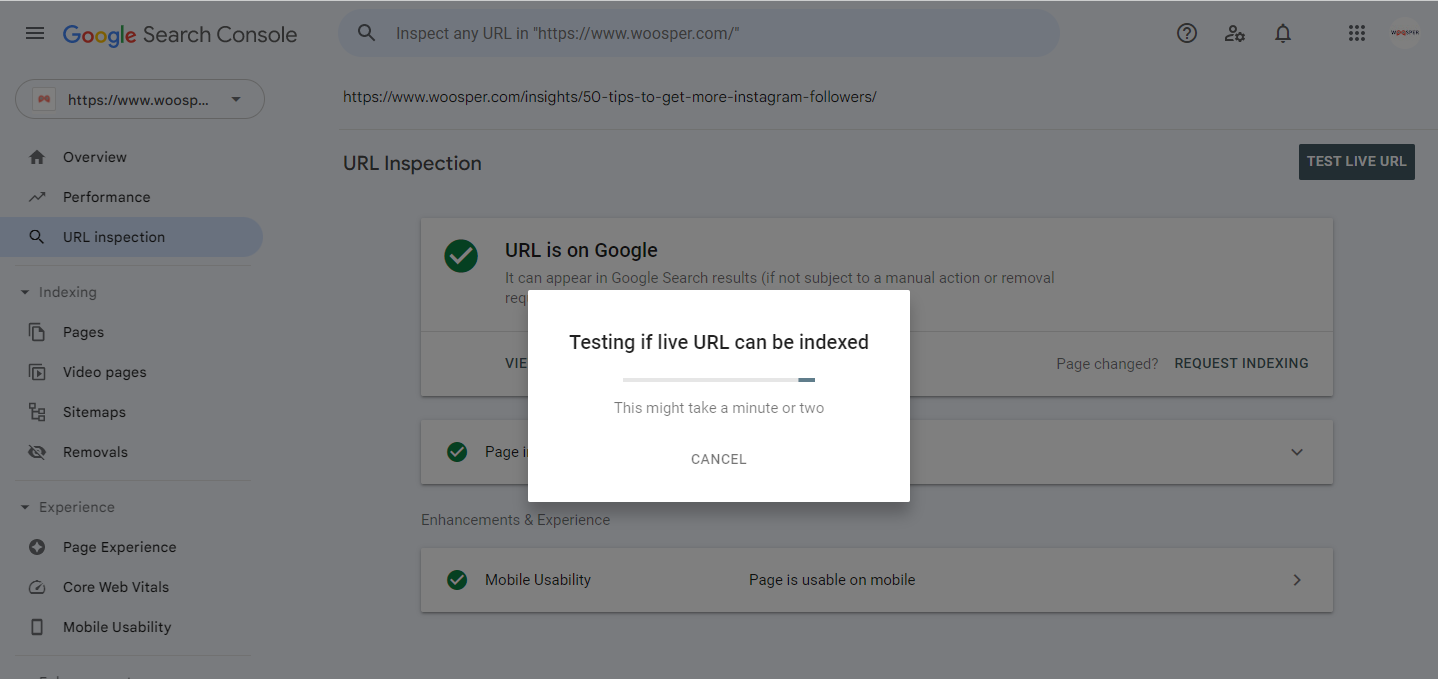 This will improve your page's ranking. Additionally, you can also promote the updated version of your old blog over different social media platforms.
Final Words
Revamping old content is not as tricky as it might appear at first. You just need to pause for some time on your publishing articles; check out the blog posts you have already published. However, this is not the only blogging strategy that you need to follow. It is equally essential to push new content to your website to get traffic and conversions from your site.
Have you ever updated your old content?
Let others know in the comment section if you followed any other approach for content optimization.
Have a Happy Blogging!

FAQs